Johnny's Meats has been a Hertel Avenue landmark since 1960. We have been serving the North Buffalo community for 50 years, and pride ourselves on our dependable, considerate and individual service.
At Johnny's Meats we carry a full line of beef, pork, veal, lamb and poultry. We also have a large assortment of cold cuts and cheeses, as well as many homemade salads.
Our specialty is our homemade Italian sausage made with our own secret blend of imported cheeses. We also carry a large selection of quality prepared cooked items that we sell in oven safe containers. All you have to do is heat and eat.
Testimonials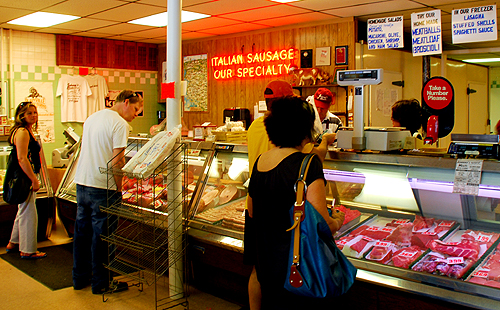 Bonnie from North Buffalo (Dec. 29, 2008)
"I have been going to Johnny's Meats for many years. Their filets melt in your mouth! I always get their surf & turf special for New Years Eve & get raves! Sliced, cooked roast beef is best in Buffalo as is their sausage. Izzy makes potato salad better than my German grandmother! Mike does a great job managing the place and it is a true family business with Mike's wife and kids getting more involved. A great experience to shop here and the bonus is you get great product as well!"
a Yahoo! Local User (July 7, 2005)
"New Twist on Old Classic: The chicken and feta sausage is fantastic!"
Neighborhood Checkbook
"Famous for their homemade Italian Sausage, this full service meat market also features freshly made salads, groceries, homemade pre-cooked entrees and much more."